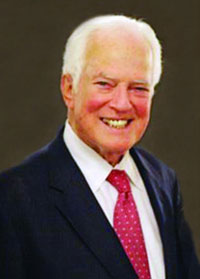 Pascal F. Calogero, Jr., a native of New Orleans, was four times elected and re-elected to the Louisiana Supreme Court from a district comprised of the seven parishes in and around the metropolitan New Orleans area.  Retired Chief Justice Calogero graduated from St. Aloysius High School in New Orleans (1949) and Loyola University School of Law (1954), where he graduated first in his class and received his LLB.  In 1982 he earned a Master of Laws Degree in judicial process from University of Virginia.  He served in the U. S. Army 1954 – 1957 in the Judge Advocate General's Corps – separated with rank of Captain.  A law clerk for the judges of the Civil District Court for the Parish of Orleans for one year, he formed a law firm in 1958 with Moon Landrieu and Charles A. Kronlage, Jr.  He practiced law with the firm of Landrieu, Calogero and Kronlage until 1968, then with the firm of Calogero and Kronlage until 1972 when he was elected to the Louisiana Supreme Court.  He was elected three more times where he served a total of 36 years, 18 of them as Chief Justice.  He retired at the end of his final term in office on December 31, 2008.
Upon his retirement Mr. Calogero had served longer than any other justice in the long history of the Louisiana Supreme Court.
President of the student editorial board of the Loyola Law Review, he has authored articles in law reviews and legal periodicals and lectured to law classes at the University of New Orleans, Harvard Law School and Loyola Law School.  He was the recipient of Louisiana Bar Foundation's 1991 Distinguished Jurist Award.  He has been  selected as a member of the LSU Law Center's Order of the Coif and Hall of Fame and has received numerous awards including being named the 1995 Distinguished National Jurist by the Indiana University School of Law – Indianapolis; the national 1995 Judge Bob Jones Memorial Award, presented annually to a judge in the United States by the American Judges Association for significant contribution to judicial education, in 2007 the American Judicature Society, awarded the La. Chief Justice the Fourth Annual Dwight D. Opperman Award for Judicial Excellence, an award presented annually to a state judge of a trial or appellate court who has had a career of distinguished judicial service.
Following the conclusion of his fourth term in office, the Chief Justice has returned to the practice of law in association, of counsel, with the Law Firm of Ajubita, Leftwich and Salzer, a practice primarily as a general legal consultant, and a state and federal appellate practice handling writs and appeals.
  Practice Areas:
General Legal Consulting
Appellate Litigation
Bar Discipline Matters
Ethics Expertise
Ajubita, Leftwich & Salzer, LLC | 1100 Poydras Street, Suite 1500 New Orleans, Louisiana 70163 | Tel: (504) 582-2300 Fax: (504) 582-2310